I wanna love you forever, I do
I wanna spend all of my days with you.
I'll carry your burdens and be the wind at your back.
I wanna spend my forever - forever like that.
|| ben rector - forever like that ||
It was July 13, my friend Greta was getting married to my friend William, and I was videoing the day. I subconciously observed her cousin Emily, who was a bridesmaid, the whole time. I quickly and eagerly friended her on Facebook the next day because I had determined that she was one of the most hilarious, gorgeous, friendliest, outgrageously memorable women that I would ever meet in my entire lifetime. I didn't interact much with her directly but this is just me observing from the sidelines, remember? A little over a month later I saw in my newsfeed that she got engaged! "Wow! Didn't even know she had a boyfriend! Awww!! They're adooorable." To be honest, when I see people that I know, or am at least Facebook friends with, that I admire (even those I don't know, but can clearly see that they're attractive and precious together) I get this anxious excitement. I'm a wedding photographer after all and my first initial thought is always, "Man. I want to shoot their wedding." The Lord has seen fit for many of those wistful thoughts to become dreams come true this year which is humbling and marvelously wonderful. He gives good gifts! And the first time I would experience the satisfaction of having my fleeting wish become a reality was when I received a message from Emily a few days after she announced her engagement. She told me that she had been browsing and downright stalking my blog and was very interested. At this time I had only shot two weddings.
Two.
She told me that
my first wedding
was, in her opinion, perfect and when she heard it was my first she started bragging on me to everyone! ;) We met up a few weeks later at a local IHOP and talking with her was a total blast. Not only was she funny, and chatty, and bubbly...she was totally genuine, sincere, and caring as well. I almost danced out of the restaurant after our
2+ hour
long
meetup. When we scheduled the engagement over more Facebook messages she said, "
SO EXCITED! and i'm excited for you to meet Derick. I like to talk about how adorable you are and stuff (BECAUSE I HAVE A PHOTOGRAPHY CRUSH ON YOU OBVIOUSLY.)"
:) Every conversation with her never failed to make my day. And their engagement session was just as wonderful as I expected it would be. It was indeed great meeting Derick and seeing how much he loved this firecracker of a girl I was becoming increasingly fond of. Yes, they were silly. Yes, they were so hilarious I cried from laughing. But my my my, how clearly tender their love was for one another! How selfless, and
complementary
, and lively was their love! To hear a little of their story and about the proposal (and her incredible ring you see below) check out the post I wrote about their engagement session.
I had never had the pleasure of doing an engagement session before theirs and I also had a photography first doing Emily's epically gorgeous bridal session. I hope to share those photos sometime. You can see one of them in my new header and get a taste for how extraordinary the whole shoot was. :)
Her dress was every bit of the sparkly, pouffy, lacy wonder that a wedding dress fit for a princess should be.
I was cordially invited to join the bride and her ladies for lunch at her grandmother's lovely home before the getting ready began. And that was a perfect indicator for how the whole day was going to be. Hospitable, colorful, inviting, detailed, giggly, and sweet. :)
Such a precious group of women! By the time the day was over, I felt like I had just gained a gaggle of new witty, thoughtful, and stunning besties.
I don't remember which one of them suggested it, but it was such a darling thing...
"Prayer time before mascara time!"
Another fantastic way to set the mood for the occasion...every single one of them lifted Emily and Derick up in prayer, asking fervently for blessings on not just the wedding day, but their entire marriage union. And needless to say, all this before mascara was brilliant timing...there wasn't a dry eye in that room! (Not even...okay okay,
especially
not mine!)
Man oh man. They love her, and she loves them. (I'm tearing up again just thinking about this!)
"
Alrighty! I gotta go get married, girls!"
Emily's grandmother and all of our hostess, Norma, is one of the most delightful women...and she definitely gave some of her precious charisma (and beauty!!) to her grandchildren.
Lisa is Emily's mom. She kept the laughs going while still being effortlessly gorgeous. Both of Emily's parents are such awesome people...it's no wonder she turned out as incredible as she did. ;)
Dancing and singing because, MARRIAGE IS HAPPENING! ;)
"Baby, its YOU! You're the one I NEED! You're the only thing I seeee."
Once all the bridesmaids were ready, we headed over to the lovely wedding venue,
Tankersley Gardens
to get Emily dressed to see her groom! (Yep, Emily and Derick were also my first time to shoot a"First Look." They pretty much obliterated half of my photography bucket list. ;)
She looked fantastic...she blew all her girls away. :)
Meanwhile, just a few yards away Derick was getting all gussied up with his dudes...a group of first rate gentlemen with just the right balance of class and humor. The entire wedding party was phenomenal to work with.
Ah yes! Now you can finally meet Mike, Emily's dad. The bond she and he have is really something magical. They can both keep a room rolling with laughter or encourage and uplift with their sincerity and kindness. Together they are like a brilliant firework show of personality. :)
Pretty similar story when it comes to her and her brothers, Jack and Dave. :)
Here it was. The moment that I had been pumped out of my mind about for months. The First Look. It's a goldmine to photographers who love authentic, emotional, intimate moments but sometimes controversial among highly traditional family members that like to put in their two cents. However, this wasn't the case here as Lisa told me that she wholeheartedly encouraged and insisted they have a First Look because she and Mike had one when they got married way back when! So this was more like paying tribute to legacy than a new fangled artistic idea. ;) Win-win!
Notice all the bridesmaids watching from the window? Everybody was on their toes ready to witness the preciousness. :)
The look on his face was
priceless.
He was literally dazzled by the sight of his bride. No tears, just immense amounts of grins. And he was utterly enraptured by her exquisite dress. He couldn't stop complimenting her! He was truly delighted. :)
"I'll be your shade tree in summer if you'll be my fire when it's cold. And whatever the season, well, we'll keep breathing cause we have each other to hold."
"
Well I'll be your rainy day lover whenever the sunny days end. And whatever the weather, we have each other. And that's how the story will end."
My all time favorite wedding party photos. Byyyy faaaar. So much genuine outright laughter, attractive faces, and loads of chemistry between them all. They are all outstanding humans!
All the pretty details. :)
See what I mean about those bridals....Mmmhm.
Their programs were SO unique and just a testament to how passionate and appreciative they were about each and every person they had in their wedding party.
Can we all just mutually drool over this outdoor ceremony setup?! S'good.
As the ceremony time grew near, the guys also took a time to call upon the Lord. :)
I pulled Derick aside for a few portraits to ease some of those last minute jitters...it was almost time to be a husband!!
This is Jack, Emily's grandfather. He is a family man of valor that is Norma's other half -- the debonair to her grace. :)
Oh y'know...just preparing to take the most important walk of their life. No biggie. ;)
He was just as delighted to see her
again.
Cause this time they would walk away
married.
I am incredibly inspired by these two. All day I heard from those who knew them and over and over again they spoke of Emily and Derick's hearts of servitude. So it wasn't much of a surprise when they chose to paint a picture of their Savior's humility and service by washing each other's feet during their ceremony. Their Christ centered love is such a treasure to behold.
Kissing as Mr. and Mrs. Hopkins for the very first time.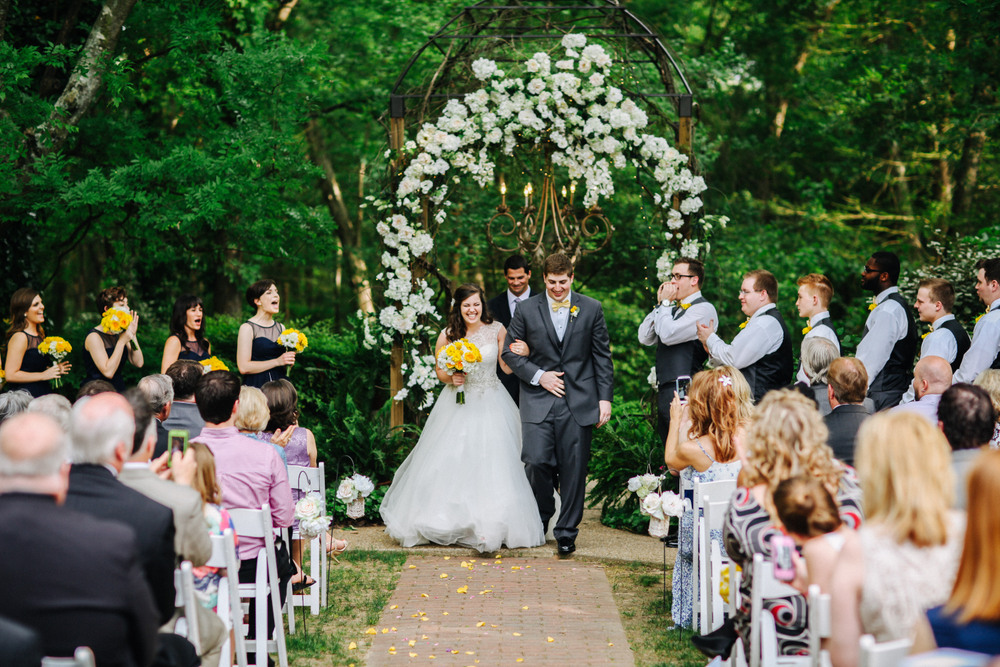 Emily's mom hugging her new son....
and Derick's mom hugging her new daughter. :) Marriage does cool things.
"We're married! Isn't that the best thing you've ever heard of?! I'm your wife!!"
She was so overwhelmingly thrilled...both of them were. :)
Praise dancing because...MARRIAGE!
"Wow! This is the longest marriage I've ever had. Aren't you proud?!"
Her silly jokes crack him up. But his do the same for her. They fit together perfectly and it gives me so so so much joy. :)
"Well I'll be the words on the pages if you'll be the sweet melody. And the tune can keep changing cause, Love, I'll keep arranging. And this is the song that we'll sing. I'll hold you and sing."
Such an epic moment. Their improve humor is pure gold.
Mike:
Emily, how do you think the Chiefs are doing this year?
Emily:
Well, it's hard to say...I mean it seems to me--
Mike:
Yes, but how do you think the Chiefs are doing?
Their back and forth was hysterical...we were all guffawing.
Emily's paternal grandmother saying hello to her new grandson. :)
Emily was so scared that this was gonna go bad...but Derick was totally nice and they both got out pretty unscathed. ;)
But then they cut the groom's cake....
Had they made it out clean here too? Possibly?
Or not. With a total straight face, she attacked. ;)
And while we were all laughing and Derick was acting the victim he got her back in a flash before she or anyone else knew what hit her. They have such a fun love. :)
The first few notes of their first dance song started cascading out of the speakers so they strolled onto the dance floor...
...but then right in mid first dance step the song cutoff. They froze...and giggled.
"Well this is romantic."
she teased.
Then Isaac, the best man, starting crooning a made up tune and encouraged them to keep dancing, "Deeerriiick and Emiiilyyy, oooOooOoo!" It was awesome. :)
Then the technical difficulty was worked out and Isaac's services were no longer needed. ;)
And with that the grand dance party began. I must admit I was swaying behind the camera cause once all of these crazies got together and the music started pumping, there was no staying still. You could tell everyone was having the time of their life. Just how a reception should be, if you ask me. :)
Three young ladies in the family all officially in the married club! Treanne, on the left, is Emily's sister-in-law and that's Greta on the right!
There were SO. MANY. stinkin' adorable couples out on the dancefloor. My sappy, romantic, two-weeks-from-my-own-wedding self was going craaazzzyyy. All the looove!
The only downside to all the intense wedding day joy, is the sting of wedding day goodbyes.
"
When the rain comes, I'll be your shelter. When the wind blows, we'll be together. When the storms rise, I'll be right here by your side. And I'll sing -- I'm gonna love you forever, I do. I'm gonna spend all my days with you. I'll carry your burdens and be the wind at your back. I'm gonna spend my forever - forever like that."
I'm at a loss for words when it comes to the depth of gratitude I feel towards you two. I mean...wow. Thanks for being some of my favorite people, for letting me be a small puzzle piece in your love story, and for just being your amazing authentic selves. I am so blessed to know you and can't wait to watch your love grow in the days to come. ALL THE HUGS, K?! ALL OF THEM. <3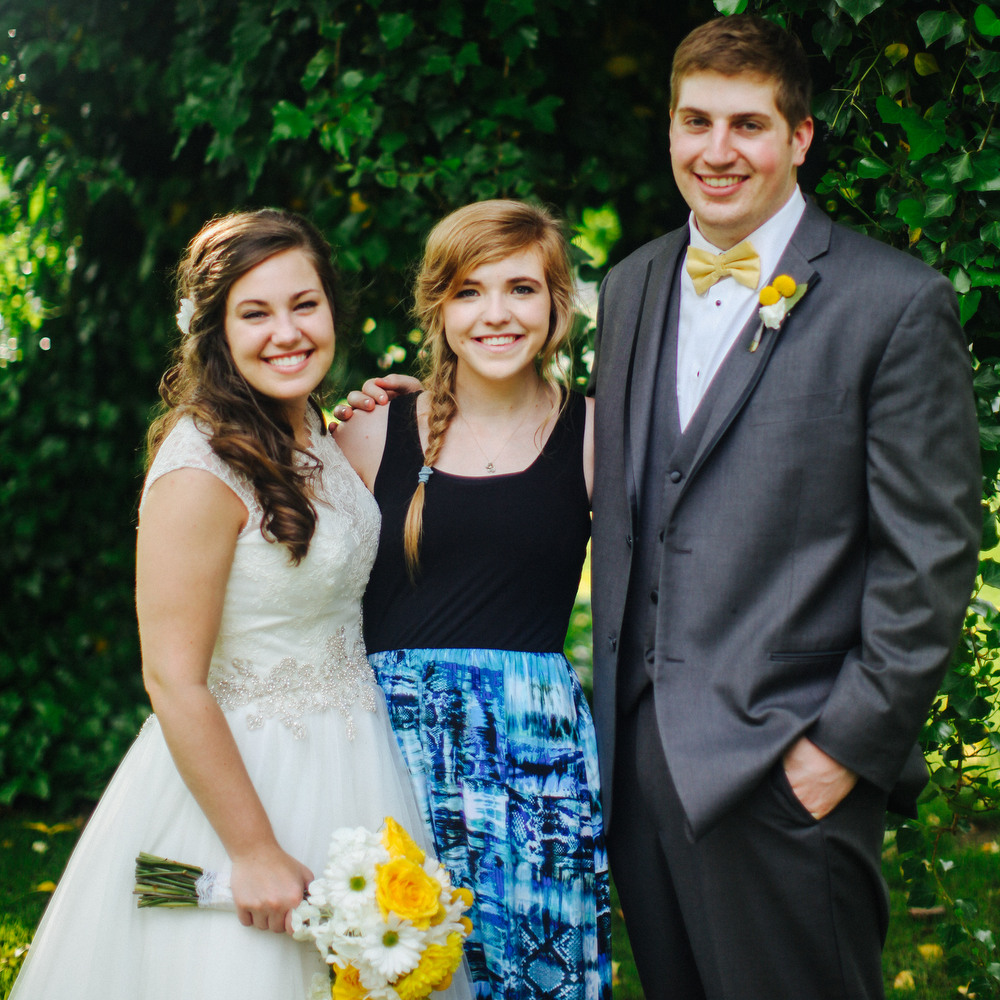 Through Christ's love,